Making slime doesn't end at simply adding some glue and activator into a bowl, there are many varieties of slime consistencies and textures that require different ingredients.  Not to mention all the extra's needed to allow your creative juices to flow.
Buying a DJ SlimeyGloop DIY slime kit is highly recommendable, it contains everything you'll need to make and store your slimes and saves you having to go from shop to shop buying all the ingredients.  If you're a slime making newbie you're going to want to start with step by step instructions too which comes with the kit.
What you need to make slime
Ofcourse the two main ingredients – glue and activator
Any washable school glue – white or clear
Activator – borax and water or saline solution

Shaving foam and foaming hand wash for fluffy slime

Clear body, hand or hair wash for making clear slime

Body lotion which makes slime stretchy

Baby oil is optional – a few drops gives stretch and that bubbly popping sound

Cornflour which thickens slime

Soft clay for butterslime

Kinetic sand for sand slime

Instant snow powder for cloud slime.  There are a few brands on the market, snow that expands quickly is the best.
Slime is great on it's own, but adding some sparkle, crunch, colour and some creativity is all the more better.
Slime supplies for a variety of slimes
Colourants – Liquid or powdered food colouring, crafters/acrylic paint, any arts and crafts colouring powders

Glitters – This is a whole new subject on its own, there are hundreds of colours and sizes of glitters to choose from, shop around and start adding to your large colourful collection

Crunch – When it comes to making your slime crunchy you can add styro-foam beads, perler beads, plastic pellets, fishbowl beads or anything small and hard that will crunch in your slime.

Fimo slices and confetti – These are so pretty in translucent slime and their are hundreds of different types available

Glow in the dark powder – who doesn't want a glow in the dark slime?
Its no good having slime but not being able to store it
Slime making supplies and storage
Containers – Plastic containers with lids

Zip seal bags – Another option if you have run out of plastic containers

Tools – Mixing bowls and sticks, measuring cups and spoon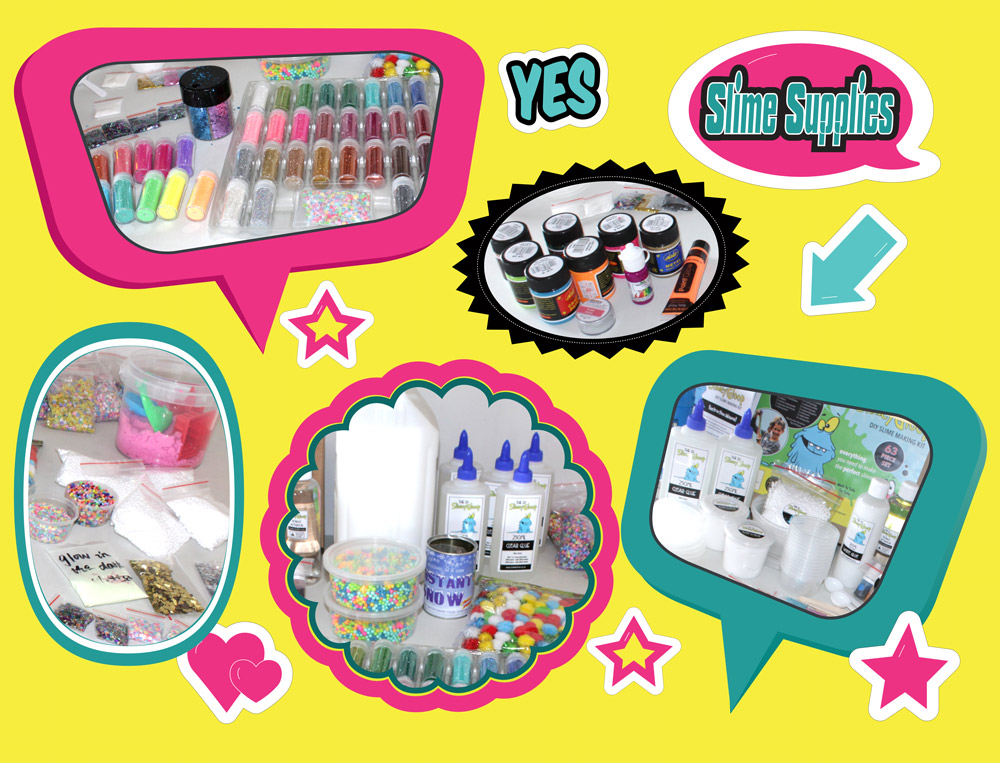 Well there you have it, a list of everything I can think of.  Happy shopping!!